UNION Savings BANK supports hundreds of local charities and service organizations each year. In the past, we have contributed to organizations such as the United Way of Northwest Illinois, Highland Community College, The Salvation Army, Kiwanis International, and more! Our employees are also generous with their time and talents and have participated in events such as the United Way Day of Caring, Neighborhood Works Week, The March of Dimes Walk, and R.A.M.P Wheel-a-thon, Northern Illinois Food Bank. 
$15,000 Targeted Impact Fund Grants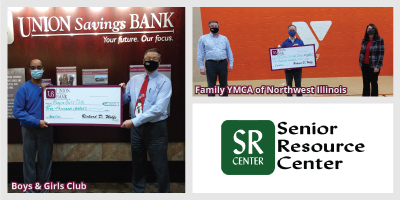 UNION Savings BANK is grateful to be a recipient of a $15,000 Targeted Impact Grant from the Federal Home Loan Bank of Chicago (FHLB). This is the second grant awarded to the bank by the FHLB this year.
The Targeted Impact Fund Grant dollars support the local relief efforts for populations hardest-hit by the COVID-19 pandemic and promote racial equity in communities across Illinois and Wisconsin. The grant requires the bank to distribute the funds in increments of $5,000, and the beneficiaries must meet specific criteria and serve targeted populations.
The following organizations were selected to receive a $5,000 grant.
Boys and Girls Club of Freeport – To help the local youth of all backgrounds, with particular concern for those from disadvantaged circumstances, develop the qualities needed to become responsible citizens and leaders, irrespective of race, color, creed, or national origin.
Senior Resource Center – The Senior Resource Center offers support and resources and advocates independence and well-being of all elderly and disabled adults in Stephenson County, Illinois. Support services include transportation, adult protective services, education, and money management.
YMCA of Northwest Illinois -The YMCA of Northwest Illinois serves the hardest hit by Covid-19 through outreach programs including subsidized daycare, youth programs, and services for elderly local residents.
$20,000 COVID -19 Relief Grants
UNION Savings BANK is grateful to be a recipient of a $20,000 COVID-19 Relief Grant from the Federal Home Loan Bank of Chicago. The grant funds will be distributed to 10 local organizations that help the most vulnerable populations in our community.
We know that that the pandemic has caused an increase in the use of local food pantries as well as an increase in domestic violence. It is for this reason that each of the organizations listed below was selected to receive the $2,000 donation.
Carrie Lynn Children's Center
Tyler's Justice Center
B1 Food Pantry
Voices of Stephenson County
Mother Hubbards Kiddie Cupboard
Freeport Area Church Cooperative
Loaves and Fish Food Pantry
Mount Morris Fire Protection District
Rockford Sexual Assault Counseling
Hope of Ogle County
Pink Heals for Breast Cancer Awareness Month
The employees of UNION Savings BANK directly raised $500 for the local chapter of the Pink Heals organization.  Employees purchased Breast Cancer Awareness shirts to wear during October to show their support. Pink Heals offers support and resources to individuals facing a cancer battle.