Bank News and Announcements
Effective May 1, 2022 our lobby and drive up hours will change to the following. The Freeport Main Branch hours will remain the same.
Mt. Morris
Lobby Hours:
Monday- Friday          9:00AM – 5:00PM
Saturday                      By Appointment
Drive Up Hours:
Monday- Friday          8:30AM – 5:00PM
Saturday                      9:00AM – 12:00PM
Rockford
Lobby Hours:
Monday- Friday             9:00AM – 5:00PM
Saturday                         Closed
Drive Up Hours:
Monday- Friday             9:00AM – 5:00PM
Saturday                         Closed
Belvidere
Lobby Hours:
Monday- Friday              9:00AM – 5:00PM
Saturday                          By Appointment
Drive Up Hours:
Monday- Thursday        9:00AM – 5:00PM
Friday                               9:00AM – 5:30PM
Saturday                          9:00AM – 12:00PM
Freeport South St.
Lobby Hours:
Monday- Thursday       8:30AM – 5:00PM
Friday                              8:30AM – 6:00PM
Saturday                         8:30AM – 12:00PM
Drive Up Hours:
Monday- Thursday       8:30AM – 5:00PM
Friday                              8:30AM – 6:00PM
Saturday                         8:30AM – 12:00PM
2022 Bank Holiday Schedule
The offices of UNION Savings BANK are closed in observance of the following holidays during the 2022 calendar year.
New Year's Day - Saturday, January 1, 2022
Dr. Martin Luther King Jr. Day - Monday, January 17, 2022
Presidents' Day - Monday, February 21, 2022
Good Friday - Friday, April 15, 2022 - All Offices will close at 5:00PM
Memorial Day - Monday, May 30, 2022
Juneteenth Day - Monday, June 20, 2022
Independence Day - Monday, July 4, 2022
Labor Day- Monday, September 5, 2022
Columbus Day-Monday, October 10, 2022
Veterans Day - Friday, November 11, 2022
Thanksgiving Day - Thursday, November 24, 2022
Christmas Eve - Saturday, December 24, 2022
Christmas Day Monday, December 26, 2022
New Year's Eve - Saturday, December 31, 2022 - All Offices will close at 12:00PM
Amanda Walter to Lead Investment & Trust Team
News Release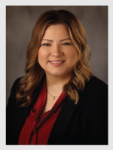 Freeport, IL (September 21, 2021)   We are pleased to announce that Amanda Walter will lead the Investment and Trust Department of UNION Savings BANK as a Vice President and Senior Trust Officer. Amanda attended North Central College, studying accounting with an emphasis on conflict resolution. She is a graduate of the Cannon Financial Institute at the University of Notre Dame and has earned the professional designations of Certified Trust and Financial Advisor (CTFA) and Accredited Trust Operations Professional. Active in the community, Amanda serves on the Board of Directors of the Amboy Depot Commission and owns a successful small business.
Board of Directors Announces New Bank Leadership
News Release
Freeport, IL (June 7, 2021) – The Board of Directors of Union Savings Bank announced at the June 7, 2021, annual meeting a change in executive leadership. Richard. D. Wolfe, Chief Executive Officer and President announced his retirement after forty-three years of service to the bank. Wolfe held several positions at the bank during his career and served as President since 2012 and Chief Executive Officer since 2016.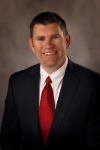 Nicholas A. Gill was promoted to Chief Executive Officer, President, and Director. Gill graduated from Illinois State University with a Bachelor of Science degree in Finance. He holds the professional designation of Certified Community Bank Compliance Officer, attended the Graduate School of Banking and Leadership Institute at Highland Community College. Active in the community, Gill is the current president of Lincoln-Douglas Kiwanis and is an assistant football coach for Forreston High School.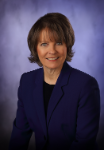 Mary K. Vogel was promoted to Executive Vice President. Vogel serves on the bank's Board of Directors and manages Human Resources for the bank. She holds a Bachelor of Business Administration degree from the University of Wisconsin at Whitewater and attended the Graduate School of Banking and Highland Community College Leadership Institute. Vogel is a member of the Society for Human Resource Management and previously served on the board of directors for Freeport Sunrise Rotary.
About Union Savings Bank: Established in 1883, Union Savings Bank is an independent, full-service community bank serving the Northern Illinois area. They offer a broad range of banking services from, personal and business banking to investment, trust, and mortgage services.  
Building New in Mount Morris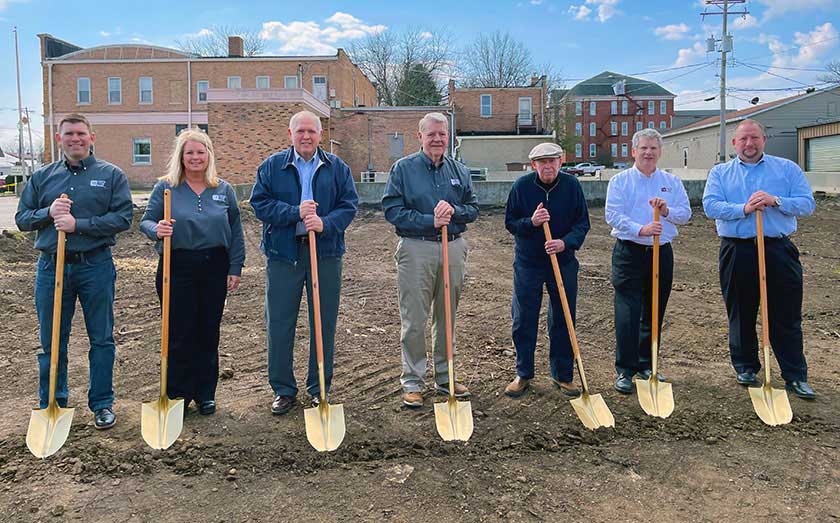 Left to Right: Nick Gill, Angie Good, Jerry Griffin, Thomas Huber, Carl Zulke, Richard Wolfe, Delbert Bunker
We are pleased to announce that we broke ground in late April on a new branch office in Mount Morris, Illinois, located at 1 W Hitt Street. Expected to open in the fall of 2021, the new office will feature two drive-through lanes with an ATM, ample parking, and safe deposit services. The branch will continue offering personal, commercial, and mortgage banking services.
Angie Good, Vice President and branch manager, shares that "It's an exciting time to be in Mount Morris with all of the new economic development. UNION Savings BANK is very committed to Mount Morris and Ogle County, and we are building a facility that grows with the community into the future".
Mount Morris area customers will receive information through the mail regarding the office's transition. For our customers with a Safe Deposit box in Mount Morris, please be sure to watch for time-sensitive communications arriving in late July.
Technical Support Scam Alert
We've seen a recent increase in the Technical Support Scam. In this scenario, scammers want you to believe you have a serious problem with your computer, like a virus. They want you to pay for tech support services you don't need, to fix a problem that doesn't exist. They often want you to allow them remote access to your computer over the internet. 
Don't give remote access to your computer or payment information to someone who calls you out of the blue. 

Don't rely on caller ID to determine if a caller is on the level. Scammers use spoofing

 techniques to make it look like they're calling from a legitimate number.

Don't call the number in a pop-up virus alert. Real warnings from your operating system or antivirus program will not ask you to call anyone for support.

Don't click any links in the pop-up, even to close the window. This could redirect you to a scam site or launch a "dialogue loop," continually serving pop-up messages.

Don't open previously closed sites if prompted to do so when you restart the browser after getting a scam pop-up.
We're always happy to be help inspect a message or offer that seems suspicious.  Please contact a banker by phone for assistance.  
Exciting news! We had a major update to the design of the UNION Savings BANK website (homepage)  on March 4, 2021 at 2:00 pm CST. The new site will feature the following improvements:
Improved security

 - we will add "https" to our website address to increase the security level to ensure that our customers receive the highest protection level when browsing.

Mobile-Friendly

 - The redesigned website will be fully accessible from both desktop computers and mobile devices, and is designed to be visually appealing and user-friendly.

Improved Support for Assistive Technologies - the new site will work better with screen readers and other assistive technologies.
Easier Login to Online Banking - enter your user name and password right on the UNION Savings BANK homepage. 
Top of Mind Concerns
Online Banking

 (where you get your account information) is NOT changing. The bank's home page and the online banking website are separate units.

The website address will change from http://www.unionsavingsbank.com to  https://www.unionsavingsbank.com
Bookmarks - if you have saved our website as a favorite you will need to update the address.

Saved Login Information - Login information that your browser may have saved for you will not carry forward to the new website. 

Investment and Trust Customers Portfolio Link - the login link is available on the home page by clicking the "Login" button in the upper right hand corner.